Apartment | Farm holidays Villa Cuiano

Apartment
La Loggia
4 bedrooms, 3 bathrooms, sleeps 8.
Bedding Information: King beds in the 3 master bedrooms , and 2 singles in the 3rd bedroom.
Description: An external staircase leads up from a pergola with views over the Castello.
Spacious livingroom with original fireplace, three double bedrooms - two with en-suite bathroom, one single bedroom, fully equipped kitchen, third bathroom.
La Loggetta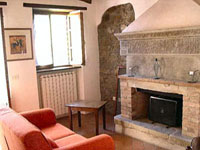 1 bedrooms, 1 bathrooms, sleeps 3.
Bedding Information: King bed in the master bedroom and a sofa bed.
Description: This small apartment is ideal as a honeymoon suite, or for a couple with a young child. Access is by an external staircase leading to a small terrace. There is a large living room with stone fireplace, a well-equipped kitchen and a spacious double bedroom with bathroom.